Thailand's Top Textile and Fabric Manufacturer
From Our Fabric Catalogue
Company Profile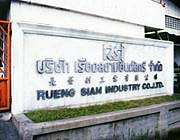 Rueng Siam Industry Co., Ltd. (formerly called Soon Thorn Printing Factory), established in 1975, is one of the most remarkable Printing, Dyeing and Finishing company in the Thailand Textile Industry. In 1991, the company expanded its business and now it coveres more than 50 thousand square meters in Bangpoo Industrial Estate with the improved state-of-art production method and quality control.
The company produces more than 15 million meters annually, assorted of Polyester, Cotton, Rayon, and the blends. With decades of experience and advance technology, the company is able to meet customer's needs in term of quality, colors, pricing and fashionable patterns.
Today, the company has been growing steadily with the continuous efforts of our experienced staff from the past 32 years. The business has gradually expanded beyond Domestic and International markets.
Rueng Siam Industry Co., Ltd. | 514 Soi 8 D Bangpoo Industrial Estate., Sukhumvit Rd. Praekasa, Samutprakan, THAILAND 10280
Tel. (66) 2-324-0944-7 | Fax. (66) 2-324-0948